The Mayor and City Council gave themselves a juicy pension for life?
City of Doral ordinance No. 2021-02, signed by Juan Carlos Bermudez and all the council members unanimously on the second reading on February 3, 2022. After the 2020 elections, the newly elected officials decided to establish a juicy retirement plan for elected officials that have served a minimum of eight years:
This is an abstract of the ordinance:
(i) Any elected official, who has served two full terms of office or for a period of eight years and who has reached the Retirement age and no longer serves as an elected official in the City of Doral and applies for benefits, shall be entitled during the remainder of his/her natural life to an annual pension benefit equal to fifty percent (50%) of the elected official's compensation. The Elected Official compensation shall equal the average of the last three years of compensation of his/her term of office. Upon vesting and each year of service as an elected officer thereafter, the retirement benefit shall increase by twelve and one-half percen.
(12.5%) for each additional year of service to a maximum of one hundred percent of the highest compensation.
This is the historical list of elected officials, terms served, and those that qualify: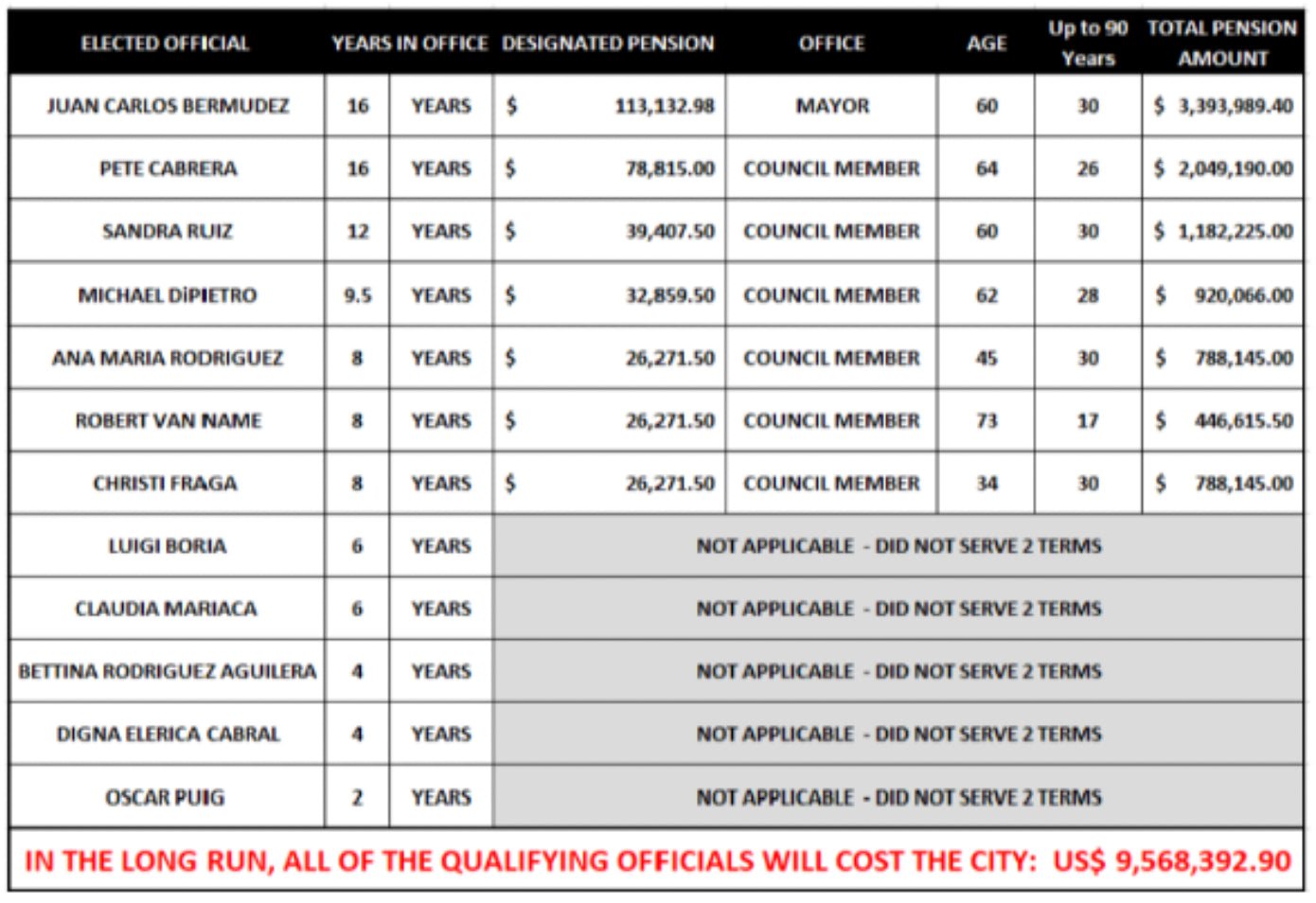 These are the highlights of the ordinance and the council meeting agenda:
The initial reading the proposed retirement age was 55 years, later agreed and settled to the age of 60 – when in the United States the legal retirement age is 67
The entire council voted unanimously and approved the Ordinance on the second reading.
This is a video from the City council meeting that shows the ordinance process:
Based on the video, share with us what you think by clicking the questions below:
Do you support this pension plan? (Y/N)
Do you think this should have gone to a ballot and let the voters decide? (Y/N)
Some candidates like Christy Fraga have manifested that, when elected as City Mayor and the new council members, like myself, will abate this pension and request a referendum so that the voters decide.
This will create a substantial financial burden for our city. As a candidate for seat No.4. I am opposed 100% to this imposed pension plan, not to mention that from what I have seen and compared other pensions, not even our war veterans have these benefits.
Dear Neighbor,
This email has been sent to inform you of what perhaps you are not aware of in our City. We are a very young city, not to mention the last one to incorporate in Miami Dade. This pension plan is unsustainable and in the long run, will hurt our city budgets and will result in higher taxes.
Juan Carlos Esquivel
A concerned Citizen -Politician